Asbury Village Celebrates Healthy Aging® Month In September
In September, Asbury Village is celebrating Healthy Aging Month, an annual observance created by Healthy Aging® magazine to focus national attention on the positive aspects of growing older. Observed nationwide now for more than 20 years, Healthy Aging Month began at a time when no one wanted to talk about growing older, according to Carolyn Worthington, the magazine's editor-in-chief. "Today, there are more than 76 million baby boomers over age 50," and they want to "stay active and vibrant as long as possible," says Worthington.
And there's no better place than Asbury Village to optimize your opportunities for health, participation, and security in order to enhance the quality of life as you age. Here, many vibrant, active seniors are looking for the "complete package" or whole-person wellness. Asbury Village delivers by providing what the World Health Organization defines as "a state of complete physical, mental, and social well-being."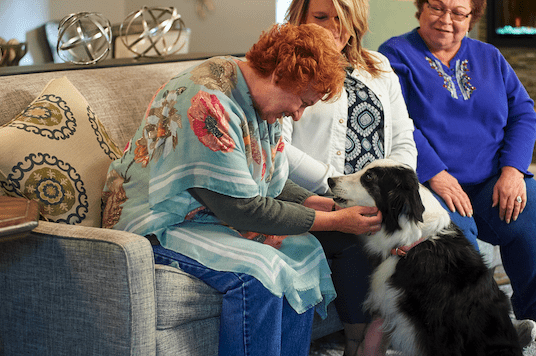 Healthy Aging In 8 Dimensions
Eight dimensions of wellness—physical, social, intellectual, vocational, spiritual, emotional, environmental, and health services—take center stage at Asbury Village and are supported by progressive activity programming. The community's SmartMoves Healthy Learning Lectures give residents a mental and physical boost in their pursuits for a healthy and positive senior lifestyle. In fact, holistic wellness programming has positioned Asbury Village as a thought leader within the senior living industry when it comes to healthy, active aging. The industry's annual Age Well Study continues to rank the Asbury Village residents high in overall health and engagement in life, and the community itself is always at the top in promoting the development of programs and resources to effectively support resident wellness.
Asbury Village takes nationwide findings like The Age Well Study very seriously. The community is constantly changing to meet the needs and wants of current residents through a progressive Living Easy, Living Well Lifestyle and Wellness Program, that offers a wide variety of services, activities, and events. Interesting activities like arts, crafts, fitness/wellness classes, celebrations and holiday gatherings, worship services and Bible studies, and trips to the Farmer's Market, sporting events, concerts, and more, are offered. All are opportunities for important social engagement. Most recently, special considerations have been implemented in the planning process for safety and distancing—without negatively impacting the effectiveness and enjoyment of the activity. Asbury Village and its residents believe that no matter how old you are, you want to be part of something, to fit in, to know that you have value—and belong. The community focuses on meeting this goal for all its residents.
Join The Celebration—5 Easy Ways
Asbury Village invites you to join us in September to celebrate Healthy Aging Month. To inspire you, we've listed five unique ways to re-invent yourself or get yourself back to aging healthfully—if you've veered off track. These tips are compiled from two great senior living resources: Asbury Village's management entity, Life Care Services®, bringing a reputation of solid management and industry leadership, and Healthy Aging® magazine, creator of this special nationwide celebration. Their websites above will give you even more tips for adjusting your habits and reaping the benefits of active aging.
Tips To Get You Going:
Start walking. Not just for your health, but to see your neighbors.
Accentuate the positive, eliminate the negative. Surround yourself with energetic, happy, and positive people of all ages. Have children in your life.
Tap your creative juices. Expand your mind and find your inner artist—it's good for the mind and the soul.
Call your doctor. Get caught up on your annual physical and other health screenings. Stop worrying about your ailments for a while.
Schedule a daily nap. You'd be surprised what 10 minutes of shut-eye will do to improve your energy and stress level.
Finally. . .
A whole new generation of progressive seniors is looking for more engagement, socialization, and activity in order to fill their days with purpose and peace as they age. Asbury Village helps these seniors prepare for what's next in healthy and active aging.
2 More Things To Do In September:

Learn more about Asbury Village by visiting our website!
Start a conversation about healthy aging at Asbury Village by calling (618) 466-8662 or contacting us online.