---
Independent Living Community in Godfrey, Illinois
Add a Healthy Dose of Fun to Your Future
Independent living at Asbury Village in Godfrey, Illinois, gives you the choice of how active you want to be.
If you're happy with your existing level of activity but want to free yourself of the responsibility that comes with keeping up a home, come to Asbury Village.
If you find your days too full and you want more time to relax and focus on what truly matters, then Asbury Village is the place for you.
If you're ready to explore new interests, get more involved in your community and broaden your social circle, join us at Asbury Village.
No matter the reason you may find your way on the path to our community, once you get here, you'll discover welcoming residents and staff who'll make it their mission to help you feel at home right away.
What Independent Living Is and Isn't
If you're already familiar with the concept of independent living, then you know you don't have to give up your privacy or live according to some preset schedule when you move to a community like ours.

Rather than taking away from what you enjoy in life, independent living adds to it.
Independent living at Asbury Village is:
A lifestyle that gives you more time to do as you please because our staff takes care of maintaining your home inside and out, as well as the common areas and landscaping.
An opportunity to expand your horizons and enrich every day through new people, new activities and new connections.
A way to give yourself more security and peace of mind while easing the responsibilities your adult children or other family members might face down the road.
A guarantee that you'll have priority access to assisted living services right here in the same community, if you should need them, at a predictable rate.
A chance to squeeze more enjoyment out of — or into — every day.
Independent living at Asbury Village is not:
Confining, restricting or limiting in any way. You can come and go as you wish, and we even offer scheduled transportation to make it easy. You can still travel, see your friends and family as often as you want and keep your pet(s) — as long as they've been approved.
Designed for people who are in poor health. In fact, most people who reside in independent living would describe their health as good or excellent. Some people confuse independent living with being in a nursing home, but that couldn't be further from the truth.
Only for wealthy people. We offer a variety of floor plans and residence options to fit a wide range of budgets. You may be pleasantly surprised how affordable living here can be.
Only for those who may not have much longer to live. We always encourage people who are interested in moving to our community not to put it off until they're forced to make a decision. It's better to make the move while you can take full advantage of all there is to do here. New residents often say they wish they'd moved here sooner.
What You Can Expect From Independent Living in Godfrey, Illinois
Basically, it's your next stop along the journey into retirement. Once you arrive, you'll discover just how much freedom independent living offers.

You're free to participate in any of the activities that take place in our community. You can also enjoy the shopping, dining and entertainment options a short drive away in downtown Alton, Illinois.

You're free to explore our 110-acre community and stand in awe of the beauty of nature and the abundance of wildlife.

You're free to take advantage of your newfound time in any way you like. Our staff will attend to your home and other needs that might arise while you engage in something more fulfilling.

You're free to indulge in delicious, healthy dining that is anything but stuffy. Or, if you prefer, you can prepare your meals at home in your fully equipped kitchen.

Many who live here say this is their last home — because they love living in this community so much and they know they can get a higher level of care right here if they ever need it. In other words, there's simply no reason to leave.
How do residents feel about the lifestyle at Asbury Village?
"My favorite part of living here has been keeping my independence. I have access to everything I need, and the staff is excellent – they're more like friends than employees. It's a friendly family atmosphere."
– Asbury Village Resident
"With so many options, you're sure to find a senior living residence that fits your lifestyle and budget. Whether you choose an apartment or patio villa, you'll enjoy true maintenance-free, worry free living."
– Asbury Village Resident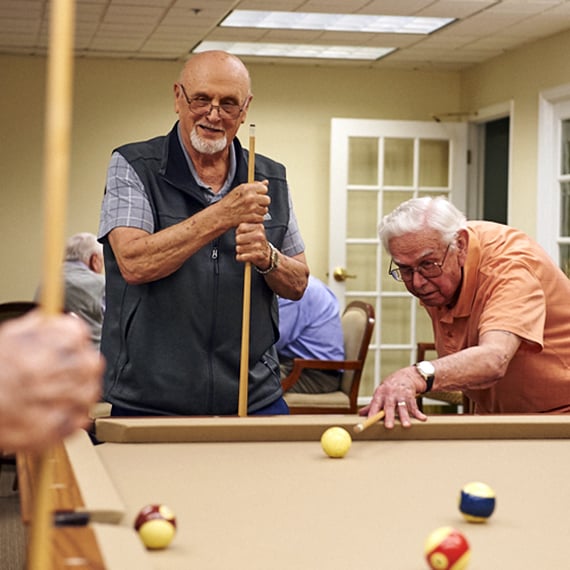 Listen to what others are saying...
Your Options for Independent Living at Asbury Village
Whether you choose an apartment or a patio villa, you'll enjoy maintenance-free living with fewer worries and a wealth of opportunities.
Wiseman-Pollock Apartment Homes
These spacious one- and two-bedroom floor plans offer comfortable living close to your favorite activities and amenities. An excellent choice if you love to socialize.
See Your Options
McKendree Apartment Homes
These budget-friendly, one-bedroom apartments are available on a month-to-month rental basis, with rent that is based on your income. There's no entrance fee or long-term lease.
Learn More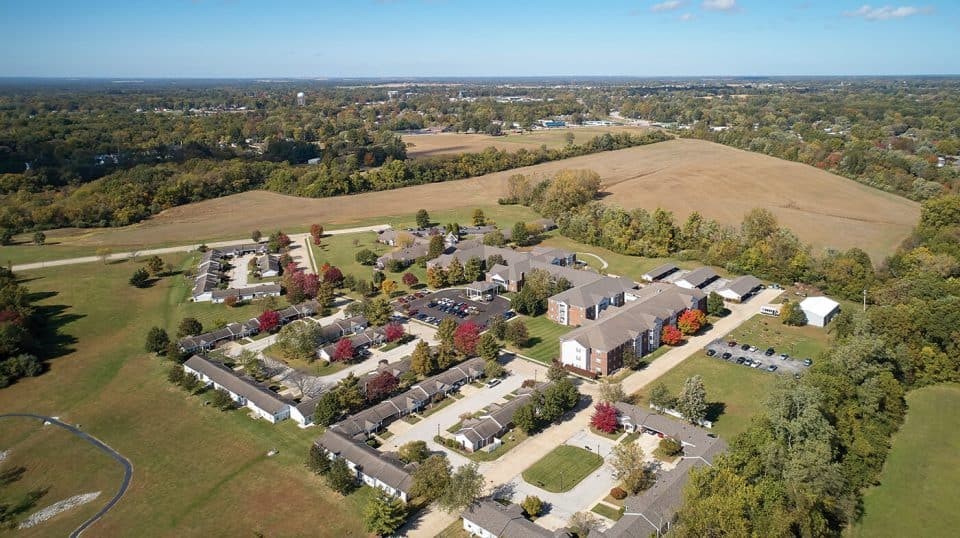 Patio Villas
If you're looking for traditional neighborhood living with easy access to activities and amenities, our freestanding patio villas sit along quiet streets with lawns, flower gardens and mature trees.
Check It Out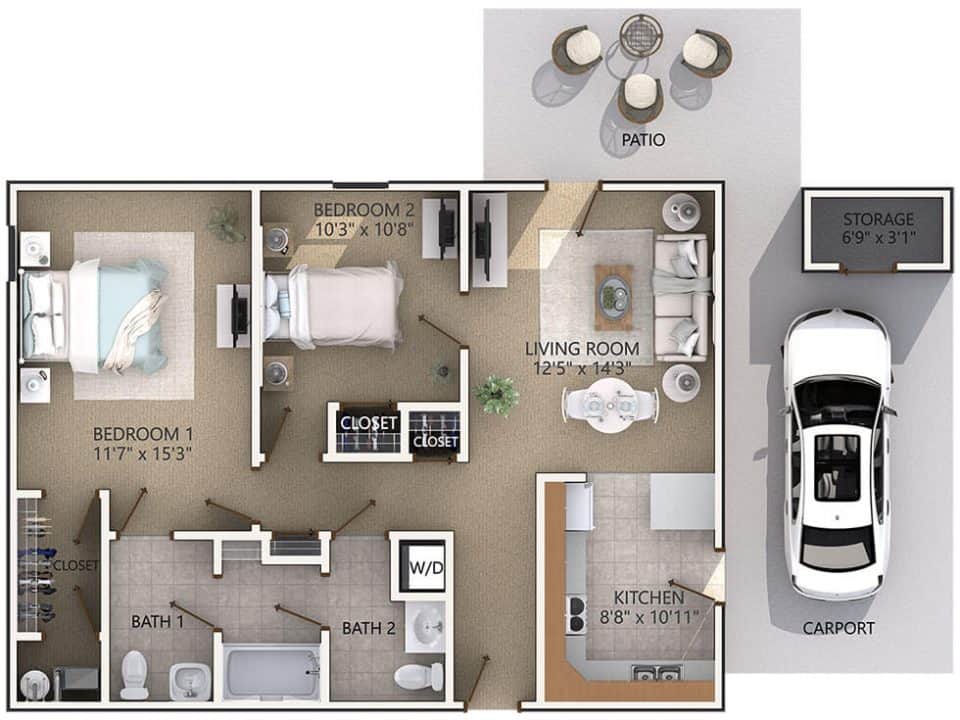 Services
Restaurant-style Dining
Coffee Bar
Private Dining Room for Special Occasions
Fitness Center
Wellness Clinic
Personal Gardens
Cozy Lounges with Fireplace and Big Screen TV
Activity Areas for Cards and Games
Lake for Fishing
Walking Paths and Gazebo
Library
Hair Salon & Spa
Business Center with Computers and Printer
Interfaith Chapel
Sample Programs & Activities
Fitness and Wellness Classes
Wii Bowling
Arts and Crafts
Trips to the Farmer's Market
Concerts in the Park
Outings to Sporting Events
Special Celebrations and Holiday Parties
Theme Dinners
Friday Donut Hour
Monthly Breakfast Buffet
Non-denominational Worship Services
Catholic Mass
Bible and Faith Studies
Ready to Join the Fun?
Bring your curiosity, your love of learning, your faith and your zest for living. Prepare to discover new interests and passions. Feel free to share your time and talent with others. There's a place for you here among friends.