Times Have Changed: What Life Care Could Mean for You
After a busy life of chasing your personal goals, pursuing a challenging career, and successfully navigating an active family life filled with children and their commitments and goals, it's finally your time. And if there's one thing you've learned, it's that you're not one to just call a halt and sit in your Barco lounger for the remainder of your days. That's not your style.
You're in luck, as times have changed to your advantage. Once called the golden years, seniors are finding life's last chapter not as much about winding down and taking it easy as it is about exploring opportunity. For example, it's about having the time to pursue a new talent or interest, chart a new course, reinvent yourself or engage in pastimes you enjoyed before life happened. You should be free now to approach life as you want—with no limitations, compromises or worries about the future. Seniors just like you support this approach and have found the perfect solution—Life Care.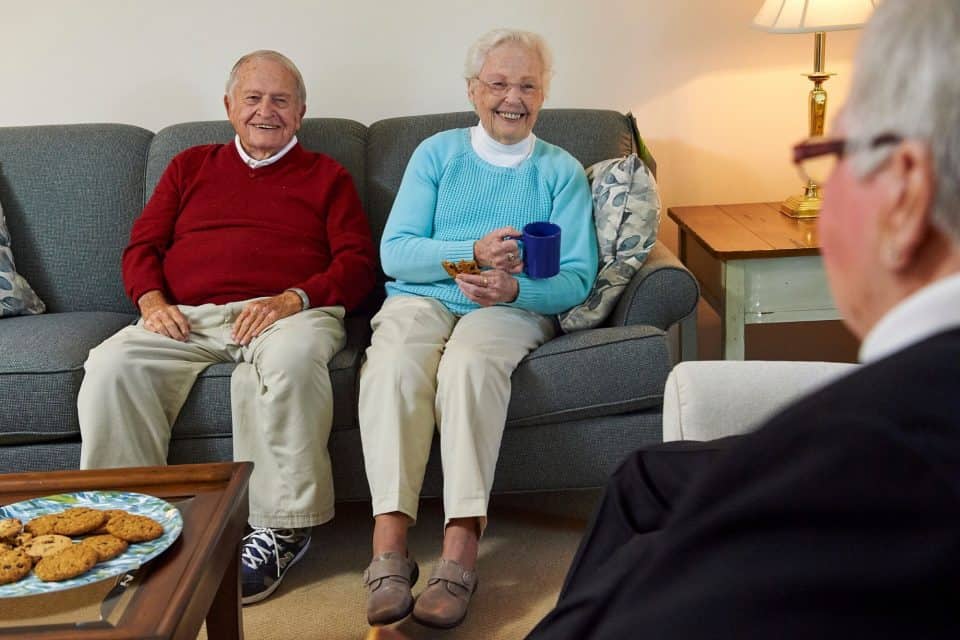 Life Care Means Freedom.
Life Care living in a community like Asbury Village leaves you free to mold a future in which you can live life to the fullest. As a full-service, nonprofit Life Care community, Asbury Village combines the independent lifestyle you want and deserve with a plan for future care. One Asbury Village resident shares, "My favorite part of living here has been keeping my independence. I have access to everything I need, and the staff is excellent—more like friends than employees."
You'll experience financial freedom in a Life Care community like Asbury Village. Not only will you have the choice of multiple floor plan options to fit every lifestyle and budget, but, at the same time, you'll have priority access to healthcare, if you ever need it—unlimited and for a lifetime. This protects you and gives you freedom from the ever-rising cost of care. Think of it, by securing your future health care plan well in advance, your loved ones, too, will be free from making difficult decisions at a moment's notice. Choosing Life Care at Asbury Village can be as much a gift for your family as it is for you.
With the new-found freedom of Life Care living at Asbury Village, you'll be ready to settle in and enjoy relaxed living in a beautiful countryside neighborhood just a short drive from shopping, dining and entertainment. This also includes on-site services and amenities that focus on whole-person well-being and offer endless opportunities for pursuing your interests, passions and curiosity for learning.
"With so many options, you're sure to find a senior living residence
that fits your lifestyle and budget. Whether you choose an apartment or patio villa,
you'll enjoy true maintenance-free, worry-free living."
-Asbury Village Resident
Life Care Means Peace of Mind.
Beyond financial freedom, at Asbury Village you'll enjoy tremendous peace of mind that comes with having priority access to on-site assisted living in Weston Terrace if ever needed. Because Asbury Village is a Life Care community, you can just settle in—no moving around to secure other needed services if your health needs change. You can get the care you need—right there—and then resume your independent lifestyle within the same community.
Life Care communities are very specialized. As such, you can generally expect that they're supported by professional management and sponsorship, adding to the peace of mind, security and stability you'll experience. With a reputation of solid management and sponsorship, Life Care Services, An LCS Company, manages Asbury Village. Life Care Services is a pioneer of the Life Care concept and leader in the retirement industry for 40+ years.
Residents at Asbury Village feel confident about the future with support from caring staff members and the easy access to on-site care. In addition, with Asbury Village's nonprofit status (all revenues are returned to the community) and long history with the Methodist Church, Asbury Village is a reliable and comforting choice.
Life Care Means Value.
We've mentioned above the independence and peace of mind you'll enjoy in a Life Care community. But let's dig a little deeper into just how valuable this lifestyle can be. For instance, the resident-driven senior living lifestyle at Asbury Village is developed around your interests, hobbies, tastes and passions. And maintenance-free living—no daily upkeep or responsibilities—means you can do what you want, not what you must. In addition, as a full-service community, excellent meals featuring fresh, nutritious ingredients are featured in your choice of dining options. There's true value in having so much choice, opportunity and activity right outside your door—along with the time—to accomplish whatever you desire.
In a Life Care community such as Asbury Village, you pay an entrance fee based on your residence size and its location in the community, and it's usually comparable to the price of homes in the area. Many entrance fees in Life Care communities are refundable—a great benefit for you and/or your estate, and adding to the financial security of Life Care. In addition, a monthly fee covers all services and amenities—you write one check—and never worry about additional funds needed for upkeep, utilities, taxes, food and socializing. Entrance fees and monthly fees for Life Care communities vary, and our staff will make sure all these details are clear to you should you choose Asbury Village for your future.
What's Next?
Now that you have a better idea of what Life Care means, check out our website and reference additional resources that may help you decide if Life Care is a good fit for you and when is the best time to finalize your decision.
And when you're ready to learn even more and see our vibrant community for yourself, call 618-466-8662 or contact us online.