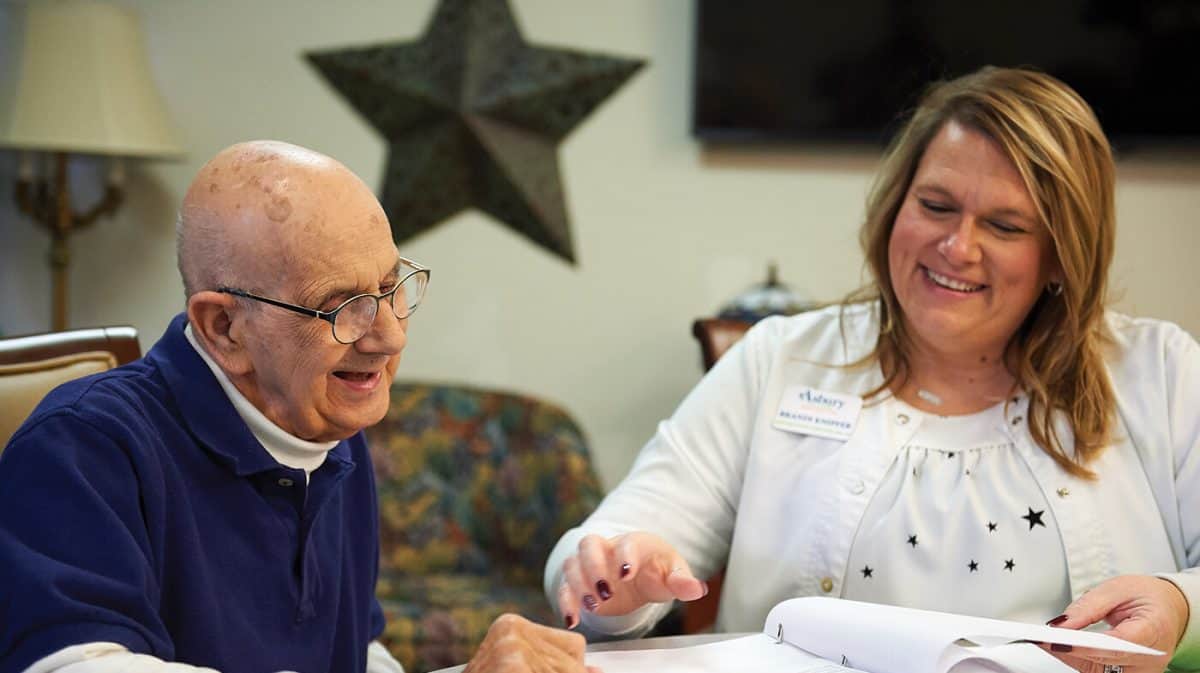 ---
3 Major Questions to Consider When Looking for Assisted Living for a Loved One
As time marches on, many of us will be put in a situation that requires finding a community for an aging loved one. The reasons, needs and wants for this life-changing move will vary. But often, the need for assisted living will be the most logical motive.
Assuming this is your current situation as an adult child, Asbury Village would like to provide you with practical information in the form of three major questions to consider during your search for an assisted living community.
A Little Homework
In the interest of expediency, let's assume you've already completed these initial search steps:
You've had The Talk with your loved one. Everyone's on the same page in terms of needs, wants, and timeline.
You know it's definitely Assisted Living you're looking for. More care than Independent Living; less care than Skilled Nursing.
You've considered your Personal expenses, financial resources, assets, investments, pensions, spouse and veteran's benefits, long-term care benefits, etc., have all been reviewed and discussed with your financial advisor.
You've begun your Initial Research on assisted living communities in your desired area.

Friends, neighbors, associates, and family doctors have given you suggestions and ideas.
You've consulted online websites for specific details and resources such as brochures.
State-mandated accreditation information has been requested for the communities you're most interested in.
Start Visiting Assisted Living Communities
It's time to get out there, make some appointments and see some communities. Hopefully, your research has resulted in a "short list." Start by calling these communities to coordinate tours for a time that fits your schedule, but also presents the greatest opportunity to tour the entire community—even some resident apartments. Plan to experience the lifestyle, and interact with residents and staff.
Asbury Village believes in meeting the needs and desires of future residents and considers your initial community experience of primary importance. Community associates often invites potential assisted living residents and families for lunch during a tour. In addition, potential residents may participate in activities and programs, join other residents for socialization, and take part in special community events to get a feel for the Asbury lifestyle. An overnight stay is even a possibility!
Three Major Questions You Should Ask During Your Assisted Living Tour 
Life Care Services, with a reputation of solid management and leadership in the retirement industry for more than 40 years, manages Asbury Village. They suggest families follow Argentum when compiling questions to ask during an assisted living search. Argentum is the nation's leading senior living trade association. They advise a focus on three essential categories of questions when visiting an assisted living community: standard of care, quality of life and value.
1. STANDARD OF CARE: Can this assisted living community provide the standard of care and services my loved one needs?
As a family, you've talked about this major life decision and the needs and desires of your loved one is top-of-mind. Prepare a list of care services and make sure the communities you visit can provide them.
Care You Should Expect
As an example, Asbury Village and the community's Weston Terrace assisted living community—voted number one two years in a row for Senior Living and Assisted Living services by readers of the Alton Telegraph, Edwardsville Intelligencer, TheTelegraph.com, and TheIntelligencer.com—has a full staff of licensed nurses and caregivers, many with long-term tenure. These courteous and respectful professionals direct care and support for residents 24 hours per day. Their training and experience are unparalleled, and, in addition, they have a unique familiarity for what area residents need, want, and are comfortable with in an assisted living setting. Clinical professionals are also available to Weston Terrace residents, as well as specialized memory support, as needed.
Services You Can Depend On
Peace of mind that comes with knowing your loved one is well-cared for—and safe—is important to your entire family. Medication management by the staff at Weston Terrace is available any time of day. An emergency call system with conveniently positioned alarms and cords, and the guarantee of over-night professional help provide a sense of security for all. Safety policies and special safety design elements are present in Weston Terrace residences and all common areas. Weekly housekeeping services with fresh linens, and personal laundry services are also part of the personal care services for residents of Weston Terrace.
When it comes to assisted living standard of care, accept no less than what can be provided by Weston Terrace at Asbury Village.
2. QUALITY OF LIFE: Will this assisted living community support and impact—in a positive way—my loved one's quality of life?
Comfort and convenience within your loved one's surroundings are important to the quality of daily life in assisted living. Safety and cleanliness are of primary importance, but so are well-determined residence design features that foster independence and contentment. Outside your loved one's personal residence, a vibrant, stimulating, rewarding lifestyle is also important.
A Variety of Residences
At Asbury Village, the Weston Terrace assisted living community offers three different floor plans in four distinct neighborhoods within a beautiful countryside setting. All are private studio apartments, each with a private bath—all utilities provided. Care has been taken to create bright and cheery personal surroundings, and floor plans that beautifully accommodate your loved one's favorite furniture items. Call buttons, handrails, and other safety features are standard.
 Socialization and Wellness
Everyone wants to age well—and healthfully. It's one thing to make sure your loved one has the assisted care needed, but quite another to make sure a complete state of physical, mental and social well-being is provided for. This is where services, amenities, and activities that address overall wellness in heart, mind and body become so important.
One of the most important and obvious services that promotes both health and socialization is dining. At Asbury Village's Weston Terrace, assisted living residents enjoy three meals per day in restaurant-style dining environment surrounded by friends and neighbors.
Asbury Village takes a holistic approach to wellness and is constantly changing to meet the needs and wants of current residents. Its progressive wellness program offers a wide variety of services, activities, and programs that address the physical, social, intellectual, vocational, spiritual, emotional and environmental needs—for assisted living residents at Weston Terrace, too. Interesting resident-centered activity like arts, crafts, fitness/wellness classes, therapy services, celebrations and holiday gatherings, worship services and Bible studies, and more, are offered.
Asbury Village believes that no matter how old you are, you want to be part of something, to fit in, to know that you have value—and belong. The community focuses on meeting this goal for all its residents. This quality of life objective should form the foundation for a number of questions posed to any assisted living community you visit.
3. VALUE: What value does this assisted living community deliver to my loved one and our family?
Researching the cost of assisted living care can be very revealing. Medicare does not cover assisted living and most people pay for these care services out-of-pocket. Though some states cover certain services under Medicaid, for the majority of people, assisted living costs must be paid through private resources. As mentioned above, knowing your budget, expenses and resources is critical.
As you begin to visit assisted living communities and start discussing fees, make sure you fully understand what care services are included in the community service fee. Note that fees may vary in accordance to residence floorplans, as well as types of assisted living services required, levels of assistance and their associated costs. Additional questions to ask are: What is the community's fee structure? Is there an entrance fee? Are there monthly fees?
Consider the Value of Life Care
Asbury Village is a Life Care Community, a valuable option and a smart strategy for handling future healthcare costs by giving your loved one access to assisted living at a predictable rate. It may be an option for your loved one—here's how it works. Your loved one moves into a residence and receives a variety of services such as dining, housekeeping, scheduled transportation, maintenance and security, and has access to social, wellness and educational programs. They live independently with the unique benefit of access to a continuum of care. That includes onsite assisted living at Asbury Village via a seamless transition to Weston Terrace and other levels of care, as needed, without leaving the campus or friends, neighbors and staff who know you.
As a Life Care Community, Asbury offers a residency agreement with a one-time partially refundable entrance fee, along with a monthly payment that covers the services provided. Most people are surprised at the true value and affordability of Life Care compared to the costs of owning a home. A home may be mortgage-free, but remember you still have utilities, taxes, groceries, continuous home maintenance, potential renovations, and entertainment. All this is included in Asbury's maintenance-free Life Care community. Find out what Life Care could mean to your loved one.
We hope these major questions have been enlightening, and that your search for the perfect assisted living community will lead you to Asbury Village and Weston Terrace. Please know that, no matter where you are in your search, we're happy to answer your specific questions, give you a tour, and send you information including our brochure. Call (618) 466-8662 or contact us online to start the conversation.